The SSB or Service Selection Board Exam is a competitive exam in India held nationwide and conducted by the Union Public Service Commission (UPSC).
Upon qualifying the preliminary examination, the candidates are called for their SSB Interviews. The SSB Interviews are held in the centres located in different states of India.
in today's blog, we will discuss the centres of SSB Interview in the different Indian States and their location.
The SSB Centres has allotted boards, which is also mentioned and discussed in the following paragraphs.
How many SSB Centres are there for Indian Army?
There are four SSB Centres For Indian Amry which are located in four different states of India.
The states which have the SSB Centres for Indian Army are as follows:
1. Allahabad:
Address, Cariappa Rd, Canton, Civil Lines, Prayagraj, Uttar Pradesh 211001
In 1957, The Selection Centre East, Allahabad was raised to choose suitable candidates who are eligible to become Indian Army Officers. The selection procedure of candidates was based on prism concept.
The prism concept refers to selection based on Psychological Tests, Group Discussions, Ground Tasks and Personal Interview.
The SSB Centre at Allahabad has five Service Selection Board, namely:
11 SSB, 14 SSB, 18 SSB, 19 SSB and 34 SSB. The boards aim to select deserving candidates for recruiting Officers in Indian Army.
2. Bhopal:
Address, Jaipur-Guna Road Chandukheri, Bhopal, Madhya Pradesh 462001
The Bhopal Selection Centre was established in 1975. The centre facilitates three Service Selection Board, which are 20 SSB, 21 SSB, and 22 SSB.
The 20 Service Selection Board, raised on November 15, 1975, with previously located at Jabalpur and then relocated in Bhopal.
Likewise, 22 SSB was first raised in Meerut, then shifted to Roorkee in 1971 and finally locates in Bhopal since 22nd March 1976.
The 21 SSB joined in on the other boards of Bhopal SSB Centre on 1st June 2003.
The location of the Bhopal SSB Centre is really good. Because it lies in close proximity to both Bhopal Junction railway station as well as Raja Bhoj Airport. It facilitates an amazing architectural set up of the main building.
It has all the modern amenities and facilities for conducting tests, dining, accommodation and recreational activities for the SSB aspirants.
3. Bangalore:
Address, Cubbon Rd, FM Cariappa Colony, Sivanchetti Gardens, Bengaluru, Karnataka 560042.
The Selection Centre South, Bangalore has three boards of selection - 12 SSB, 17 SSB and 24 SSB. The selection centre is headed by a Major General who is also the President of 17 SSB.
The raise 12 SSB on 1949, 1st April marks the beginning of assessment of SSB centre in Bangalore.
In March 1976, the 17 SSB came into existence. The 17 SSB was relocated in Bangalore from Roorkee.
4. Kapurthala:
Address, Professor Colony, Kapurthala, Punjab 144602
The Selection Centre for Indian Army Officer was raised on July 1st, 2015. The centre becomes operation from 2016.
The centre upholds a motto of "NISHPAKSH, NIHSWARTH, NISSANDEH".
It has two Service Selection Boards, which are 31 SSB and 32 SSB.
How many SSB Centres are there for Indian Air Force Selection Board (AFSB)?
Alike the SSB Centres for recruiting Indian Army Officer, there are four SSB Centres for Indian Air Force.
1 AFSB, Dehradun:
Address, 112, 1, Post Office Rd, New Basti, Clement Town, Dehradun, Uttarakhand 248002
It is located in the Doon Valley, in the foothills of the Himalayas between the two sacred rivers on India. IT has Ganga on the East and Yamuna on the West.
The centre locates around 10 KM from the main railway station.
The 1 AFSB conducts interviews for AFCAT, CDSE, NDA etc.
Dehradun facilitates good transportation facilities. It is connected y Rail, Road and Air with the major cities of India. Various private and national carrier airlines provide flights to Dehradun; the airport is named Jolly Grant.
2 AFSB, Mysore: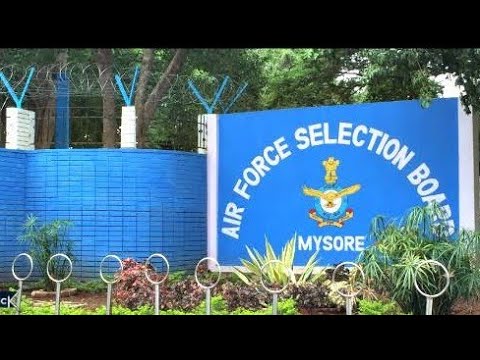 Address, Complex, Sidharth Nagar PO, Mysore – 570011
Situated in the Mysore District of Karnataka, it is located at the base of the Chamundi Hill.
The centre facilitates, the SSB interviews for AFCAT, NDA, CDSE. Also the interviews for PABT test for IAF choice candidates who have their SSB in Selection Center South, Bangalore are conducted here.
Mysore mainly connects to other states by Railways. Intercity bus services can also be chosen to reach Mysore. The nearest airport to the city is the Bengaluru Airport.
3 AFSB, Gandhinagar:
Address, 3 AFSB (3 Air Force Selection Board), Indian Air Force, Landmark- Electronic State, GIDC Rd, Sector 25, Gandhinagar, Gujarat 382024.
It is the latest inducted centre as Air Force Service Selection board. It was inaugurated in 2012.
It is located in Sector 9, which is also the Headquater of Southwestern Air Command of Indian Air Force.
The Gandhinagar AFSB interviews candidates for NDA, CDSE, AFCAT, etc.
The candidates are instructed to report at Ahmedabad Railway Station.hmedabad is 30 KM from Gandhinagar. From the Ahmedabad Railway Station, the candidates are escorted to the centre.
You can also reach Ahmednagar by Air. The Airport that lies within 9KM from Ahmedabad Railway station is Sardar Vallabhbhai Patel International Airport.
4 AFSB, Varanasi:
Address, Mint Rd, Nadesar, Chaukaghat, Varanasi, Uttar Pradesh 221002
The SSB conducts the interview in Varanasi for entries of NDA, AFCAT, CDSE etc.
Varanasi has all the facilities of commute and well linked by air, rail and road with other Indian cities.
The airport of Varanasi is the Lal Bahadur Shastri International airport.
How many SSB Centres are there for Indian Navy Service Selection Board (NSB)?

Coimbatore, Tamil Nadu:
Address, NSB Agrani (Address: The President Naval Selection Board INS Agrani Red Fields Coimbatore-641018)
The Interview assessment centre facilitates the selection of suitable Naval Officers. The centre is raised to access the candidates only for Naval Academy.
33 SSB at SSC, Bhopal:
Address, Jaipur-Guna Road Chandukheri, Bhopal, Madhya Pradesh 462001.
Bhopal, not only has an SSB centre for Indian Army but also for accessing interview of aspirants for Naval Officers.
12 SSB at SCS, Bangalore:
Address, Cubbon Rd, FM Cariappa Colony, Sivanchetti Gardens, Bengaluru, Karnataka 560042
Alike the SSB Centre at Bhopal, Bangalore also facilitates interviewing for recruiting both Indian Army and Indian Navy Officers.